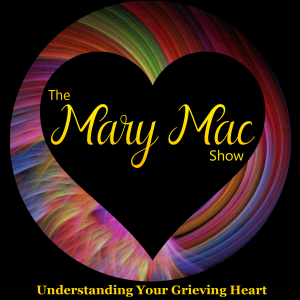 For the longest time I've searched for technology which could accommodate and support my podcast audience and others so they'd be able to connect and learn from each other.
As I say in many podcast episodes, the very best support is from another individual who has experienced the exact type of grief you are feeling and dealing with.
Traditional counseling can be good, but the chances of you relating to one who has also lived through the death of a baby, like you, or the murder of a child, like you, or the death of a spouse through alzheimers disease, like you…well it's pretty slim.
And you waste so much time and money and leave each session wondering why you're paying them to teach them about your grief.
You need a place where you are truly understood and surrounded by those who are living your experience.
********
I am grateful that I can now offer you my exclusive membership – The Mary Mac Show Community – where you'll be able to grieve in a safe, password protected, online portal.
Listen to my podcast episode on this exciting new gathering created just for you:
With the world becoming more violent and uncertain by the day, it is no longer safe to go to a local grief support group which are usually held at night.
Additionally, in many area of our countries, there just are not enough face-to-face groups available since the pandemic, when many shut down for lack of funds.
Consequently, I wanted to create something online which will solve this problem.
No matter where you are in the world, and no matter what type of grief you are suffering from, you are welcome to become part of The Mary Mac Show Community and gain strength from others.
Who is Invited to Join
Any individual who has experienced the death of a loved one or is anticipating the death of a loved one in the near future.
Who is NOT Invited to Join
Counselors, Therapists, Psychologists, Psychiatrists, Professors, Graduate Assistants, Teachers, Students, Doctors, Nurses and all other mental health and healthcare individuals (unless you personally are grieving a significant death) as well as funeral home staff, journalists, writers, bloggers, freelancers, media of all kinds (television, radio, podcasters, youtubers, social media influencers, magazines, newspaper staff, etc.) and anyone else who wishes to learn and benefit from the pain of others. We are not here to teach you. We are not here so you can create your next article, course or book. You do not have permission to be here. We cannot allow you to exploit our members' pain for your advantage.
Why You'd Want to Join
• Be able to securely sign in online with your own profile, anonymously, if you wish
• Have your profile shared with the community
• Provide your location (city/town, state/province, country) so other members can find those who are geographically nearby them
• Be able to create audio calls and invite other members at any time of the day
• Be able to create video chats and invite other members at any time of the day
• Join support groups online with members who share your exact type of grief
• Be able to vent your frustrations and struggles so you can get it out of your system helping you to move forward with your day
• Have the ability to comment on other members' posts to support them
• Upload photos of your loved ones
• Learn skills which will help you deal with your grief other than prescription drugs
• Help you build a mentally, physically, emotionally, socially, spiritually better life after such devastation
• Develop friendships that support you even if your family and friends have walked away or expect you to "be over this by now"
• Join zoom calls where I answer questions you've sent in
• Mobile Application to follow our community on both an IOS and Android app
Other Questions…
Why not a facebook group?
Even when they claim it's a private group, facebook still uses your information to sell to other companies so they can advertise to you.
Except for clicking on likes and loves, do you really have the ability to connect with members who have the exact type of loss you do? No.
You read their stories, they read your stories, and that's about it. And there are so many people there, the chances of you finding that person again is slim to none.
Social Media algorithms change continually for the benefit of the platform and not you.
And chances are good that if you say something they don't like, that your account will be deleted or suspended randomly.
So we've had enough.
When you are in our group you can express your pain and support others who are expressing their pain as well.
We want you to truly get to know others in our community.
They've also lost a grandparent, parent, sibling, spouse, infant child, child, adult child, other relative, friend, pet, etc.
They are also going through the anticipated death of a loved one.
And some have experienced multiple deaths.
********
So stop feeling isolated.
Stop wondering where you will get help.
Stop feeling that no one understands you.
You need another circle of friends and those who completely understand your pain.
So come join us.
The investment in your mental health is minimal and so very necessary.
And you even get to try us out for 7 days free! Plus you can cancel at any time…when you're ready.