Mary Mac has appeared on numerous radio and television shows as well as in print media over the past 35 years. She is an executive grief coach for men, an author of numerous books, programs, her signature blog and articles.
Her podcast, The Mary Mac Show, is helping people worldwide. With listeners in over 85 countries, it is ranked among the top 5% of podcasts globally and in the top 10 podcasts on grief, grieving, death and bereavement.
The Mary Mac Show Community is an exclusive membership site where the bereaved come together to be comforted and educated as they grieve the loss of a loved one.
Her loyal followers have left numerous five-star reviews here.
You can review all her episodes here.
Read more about her awards and history here.
February 2022 Tuscawilla Today Magazine feature on page 6 and 7: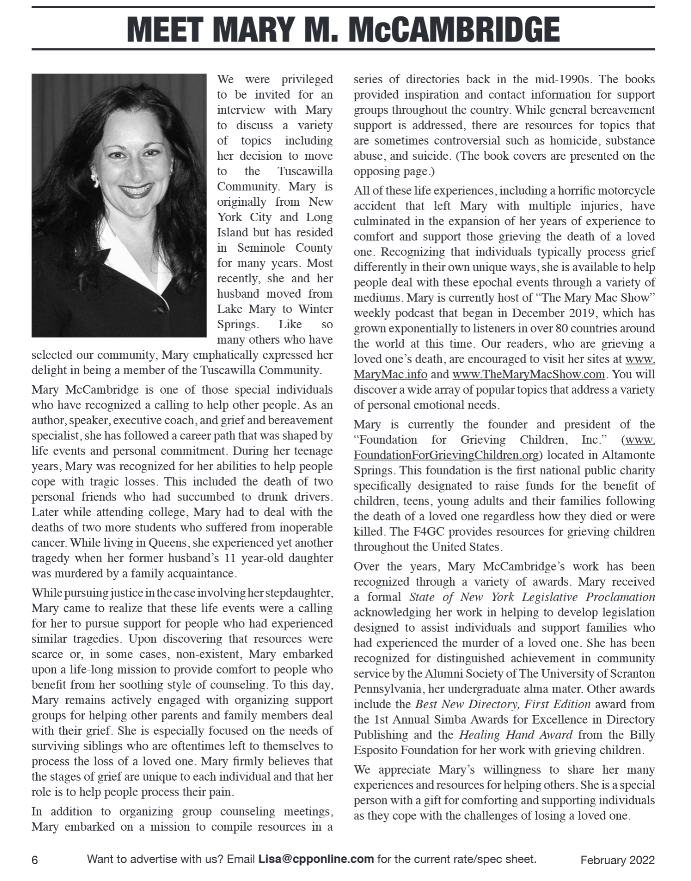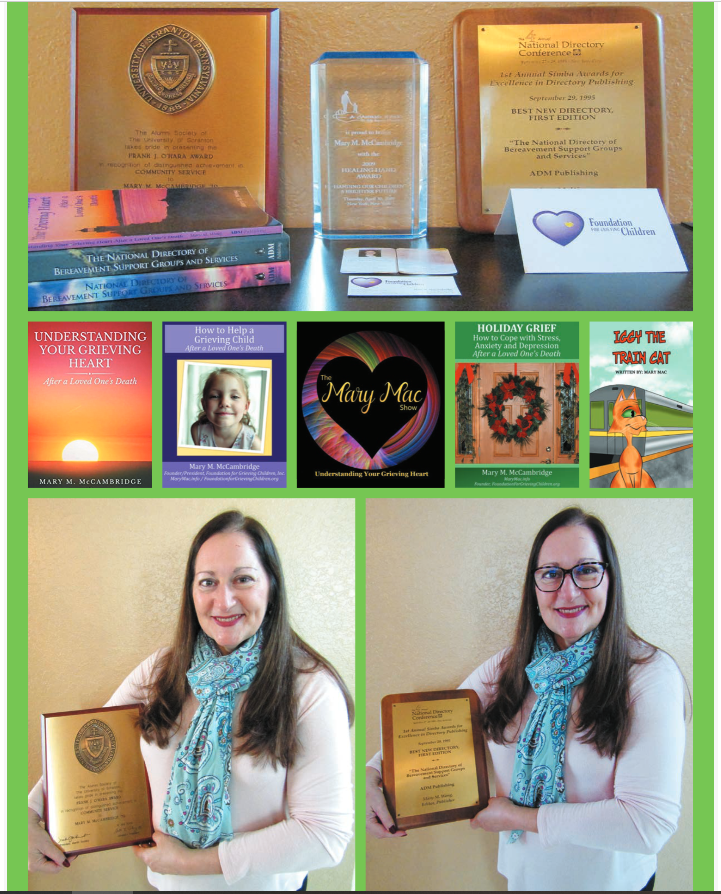 Contact Mary Mac here.
Learn more about the Foundation for Grieving Children, Inc., the first national public charity which she created to benefit children, teens, and young adults after the death of a loved one through any means.
A specialist in her field, she helps others better understand their grieving process, overcome adversity, reshape their lives for the better through education, guidance and wisdom.
Her books, work and advice has been featured in the following media:
Online Media:
American Bazaar Online – Covid-19 and the Fear of World War | How to Cope in Tough Times
American Bazaar Online – US grief coach Mary Mac offers podcasts to help Indians cope with the Covid crisis
Grief Channel – Good Grief | 10 Best Podcasts on Grief
Assisted Producers with Show's Development:
Oprah Winfrey
Eye on Crime
Geraldo
Morton Downey, Jr.
9 Broadcast Plaza
Sally Jessy Raphael
Print Media:
Associated Press
USA Today
CNN.com
New York Daily News
New York Times
Newsday
Orlando Sentinel
Washington Post
Atlanta Constitution
Austin American Statesman
Binghamton Press
Charleston Observer
Chicago Sun Times
Chicago Tribune
Cleveland Plain Dealer
Detroit Free Press
Herald-Palladium / Southwest Michigan
Rochester Democrat and Chronicle
Newark Star Ledger
Los Angeles Times
Louisville Courier-Journal
Miami Herald
Minneapolis Star Tribune
Newark Star Ledger
New Orleans Picayune
San Jose Mercury News
Scranton Times / Joe Flannery Column
Winston-Salem Journal
Television:
A&E's Cold Case Files
CBS News Up to the Minute / New York
Cincinnati News / ABC Affiliate
Eye on Crime / Long Island
News 12 Long Island
New York 1 News
Rochester News / ABC Affiliate
Seattle News / NBC Affiliate
Unsolved Mysteries
Radio:
Sun Radio, National, Ask the Doctor Radio
Ask the Doctor, NY Hospital
Brad Davis Breakfast Club, Hartford, CT
Liz Isham, Rockford, IL
Patricia Bill, Sikeston, MO
"Doctor Radio" Sirius Radio with Dr. Carol Bernstein – NYU Langone Medical Center, addressing callers questions
Michael Dresser Show – beginning at 52:30
"To Your Good Health Radio" with Dr. David Friedman, Radio MD
"Perspectives" with LeTonya Moore
and dozens of other radio shows
Magazines:
Against the Grain
American Cemetery
Midwest Book Review
National Hospice Newsletter
Library Journal
National Funeral Directors Association "The Director" Magazine
Oprah Magazine on Disenfranchised Grief
Public Library Quarterly
SIMBA Information, Directory Publishing Newsletter
YB News