In the spring and summer of 2020 here in the USA, we were going through an unprecedented lockdown which brought fear of the unknown to us.
At that time India had not yet heard of The Mary Mac Show.
But now, since my listeners in India have become my #2 audience in the world, only behind the USA, I wanted to reach out to the English speaking media in India to let them know that I had prepared many episodes on the coronavirus and how we are dealing with our grief when a loved one is dying or has died from this dreaded and sudden illness.
So I emailed 52 individual editors of newspapers in India and only one amazing lady saw the value of my work.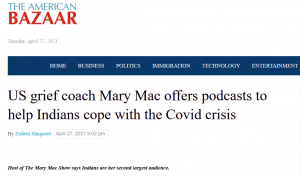 Hats off to Ms. Zofeen Maqsood of American Bazaar Online who understood how important it is to help the Indian people through their grief.
Thank you Zofeen for your kindness.
Go here to read the entire article!
xoxo