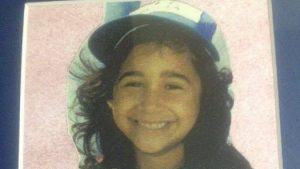 In Episode 156, LaTonya Moore, Esq. and I speak about the criminal justice system after the murder of a loved one and honor my stepdaughter who would have celebrated her 50th birthday today had she not been murdered at the age of 11.
When someone in your life is murdered, it throws you into a world that you never expected.
You start to ask yourself so many questions.
How could this have happened?
How could someone be so malicious, callous, brazen to have taken the life of someone else?
If you've been raised to respect others, you just can't understand how someone could do this.
When someone you love is intentionally killed by another human being, you are left with more questions than answers.
Now we're not talking about the weapon that was used to kill them.
It really doesn't matter how they were killed. It matters THAT they were killed and by someone who intentionally killed them.
They had malice in their heart and for whatever reason they took someone's life, they meant to do them harm.
And having to live with that fact, is extremely mind-blowing.
When LaTonya and I had this conversation in 2015, we delved into the murder of two individuals in her life and all she went through with their trials.
It took us 18 years to have our crime solved – the murder of Angela, my stepdaughter who was killed in 1984 and it took until 2002 just to have an arrest in the case.
Another 2 years to go to trial, 2 weeks to choose a jury, another entire calendar month of February 2004 to sit through the trial and a conviction on the last Friday afternoon of the month.
It was mentally exhausting, financially draining to fly from Florida to Long Island for the trial and the goodwill of friends who we stayed with throughout the trial.
Today Angela would have been 50 years old. All the life we missed over the last 39 years.
Unless you've lived through something so horrific, you really can't comprehend the pain it brings when someone is intentionally taken from you and your family.
I'd like to think she's resting in heaven and celebrating this day with those who love her.
Happy Birthday, Angela.
xoxo
Additional Resources:
Parents of Murdered Children – www.pomg.org
My 3 book bundle including Understanding Your Grieving Heart After a Loved One's Death is perfect for those beginning their journey. It is available for immediate download in any part of the world.
Visit Crisis Connections at my website to telephone a trained counselor to speak with whenever you are feeling lonely, overwhelmed, confused, frightened, fearful or any host of emotions. Even if it is a suicide hotline, do not think they cannot help you. You do not need to feel suicidal to speak with these wonderful counselors. They are there to listen to you.
Use the Emotional Freedom Technique for Grief.
You can watch Marissa Peer's "I Am Enough" meditation.
Treat yourself to a lovely gift from our Heart of Gold "I Remember" Products from The Mary Mac Store.
Remember, a portion of all proceeds help fund The Foundation for Grieving Children, Inc., the first national non-profit public charity which benefits children, teens, young adults after a loved one's death which I established many years ago. Perhaps you'd like to give a donation in your sibling's name.
And remember to sign up for my private email list so we can always stay in touch, since social media is no longer reliable. Receive my ebook 21 Things You Must Know About The Grieving Process for immediate download.
We'd love your support for our podcast and the work I do for grieving individuals. Buy me a coffee is an easy way to help me. Click on the purple coffee cup on this page! Thanks.