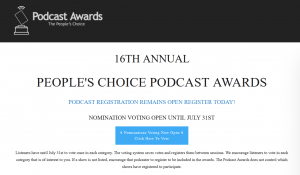 We are excited to announce that The Mary Mac Show has been nominated at the People's Choice Podcast Awards in the Category of Health!
This would not have been possible without your support of our show.
We now reach 70 countries, ranked in the top 10 podcasts for Grief and Bereavement, and in the top 10% of all podcasts worldwide.
But we need your help!!
Voting takes place from July 1st through July 31st.
And I'm counting on my listeners from around the world to vote for us!!
It would mean so much to me if you'd take the time to go to www.PodcastAwards.com, sign in to vote and cast your vote for The Mary Mac Show under the Health Category.
You also have a place to add my name and show when you sign in, if you consider me someone who has influenced you along your journey.
Also I'd appreciate it if you would share this post with all your family, friends and colleagues who are deeply hurting as well as to your social media platforms. Gaining exposure will help many more families.
Thank you so much for voting and spreading the word!
Much Love!