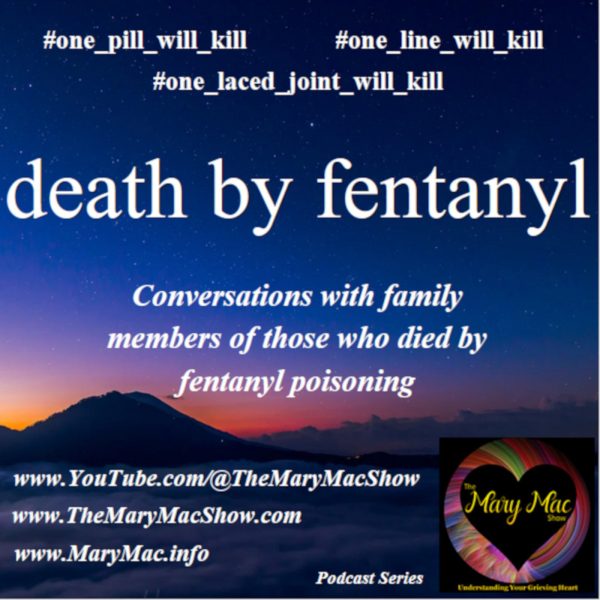 #fentanyl #fentanylpoisoning #deathbyfentanyl
In Episode 205, I speak with Andrea Thomas, of Facing Fentanyl Now and Voices of Awareness, about her daughter Ashley's death at 32 to fentanyl poisoning.
Ashley is Andrea's first born and when she was killed by fentanyl back in 2018 the world was not as educated about this scourge as they are now as a result of her activism and that of many other parents who endure this sorrow.
In an effort to deal with excruciating pain she suffered from pancreatitis, she searched for relief.
Her boyfriend, who unknowingly gave Ashley the fatal pill laced with fentanyl that killed her, took his life the next day after realizing what had happened. Now two families were devastating by one half of one pill.
She is survived by wonderful family members especially her own son Daniel who was 8 when she died and whom Andrea and her husband had raised and continue to raise today.
At the end of the funeral services for Ashley, she and her friends sat at a table and started to plot out how they could make a difference and alert her community to this deadly poison.
As the years passed, more people became involved and her organizations Facing Fentanyl Now and Voices of Awareness were born.
Later it occurred to her that there should be a day to bring awareness to this lethal drug. And now, each August 21st is considered National Fentanyl Prevention and Awareness Day across the United States.
On August 21, 2023, fellow surviving family members converged on Times Square in New York City to light up the electronic billboards with the faces of their children. In an effort to bring awareness, education and consolation to those affected by this poison, this day received millions of hits on social media and plans are already in the works for future events on that day around the country.
Watch her story here:
Learn More at her organizations' websites:
Visit Facing Fentanyl Now – https://facingfentanylnow.org/
Voices of Awareness – https://www.voicesforawareness.com and their facebook group – https://www.facebook.com/VoicesforAwareness
Your support of my work, through PayPal is greatly appreciated.
Visit our other sites:
https://www.MaryMac.info – our primary hub. Pick up our free ebook "21 Things You Must Know About The Grieving Process."
https://www.TheMaryMacShow.com – for all episodes of my podcast. Join my mailing list here.
The Mary Mac Show You Tube Channel – please subscribe to our channel, like our videos and share.
https://www.GriefAuthority.com – pick up our digital book collection to download immediately upon purchase.
https://www.FoundationForGrievingChildren.org/donate/ – your donation to our cause will be a big help for hurting young ones.
Let's Be Friends:
Facebook – Ask Mary Mac
LinkedIn – https://www.linkedin.com/in/marymccambridge/
Instagram – @themarymacshowpodcast
"X"/Twitter – @askmarymac
author, death, dying, grief, grief education, grief education podcast, grief podcast, grief podcaster, grieving journals, journals as gifts, journals as presents, journals for women, journals for writing, loss, Mary M. McCambridge, Mary Mac, mary mac journals, my gratitude journal, my grief journal, my journal, my remembrance journal, podcast for grief, podcaster, podcast for grief education, podcast for grievers, the mary mac journal collection, the mary mac show, writing
Thank you Andrea for spending time with me and sharing your story.
xoxo