As a native New Yorker, I had mixed feelings about visiting ground zero, the Freedom Tower and the 9/11 Memorial Museum. Years ago in 2005 I remember visiting when the pit was still there and all that you could see was the silver gate with the American Flag with all the names of those who died that day.
Yet when we finally did visit, I was mesmerized by all the artifacts and history and, of course, sorrow.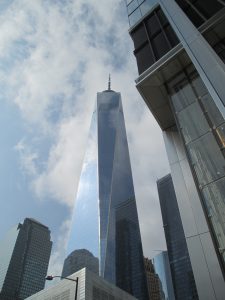 Here is what the Freedom Tower looks like today.  It's the first of two that will grace the skyline of downtown Manhattan when they are finally finished.
I remember looking straight up to it as we stood very close and being amazed, just as I was amazed when I would be at street level and look up to the original Twin Towers.
I experienced three milestones in the Towers:  a celebratory dinner at Windows on the World with my parents the last night of classes finishing up my MBA, my engagement at the observatory deck, and my 40th birthday dinner also at Windows on the World.
I remember rifling through all my pictures to find those special photos and feeling grateful I did find them.
Here are some favorites from the 9/11 Museum: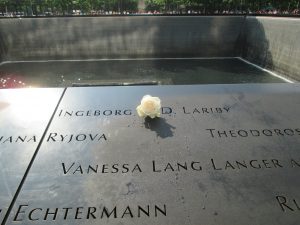 They place white roses on the names of those who are having birthdays!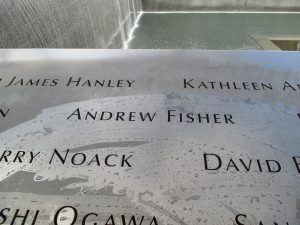 Andrew Fisher was the brother of Nina Fisher, who was high school friends with my brother.
Go here to see video of the grounds:  Original Footprint of WTC
This was the mangled reck of a FDNY truck!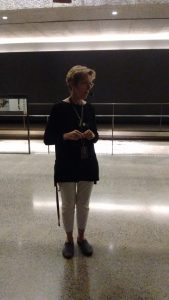 This lady was the best tour guide!  If you take a head-set tour (and you certainly must do so), I hope you are fortunate to have her!
Here are two videos which show the details on the last piece of steel and the memorials placed on it.
Last Piece of Steel in WTC Side 2
If you are able to visit New York and might be apprehensive to see all the history, please don't.  It will inform you and make you so grateful that you live in the greatest nation on earth.
God Bless all those who survived, who were first responders, military who defend us, and those who died on September 11, 2001.