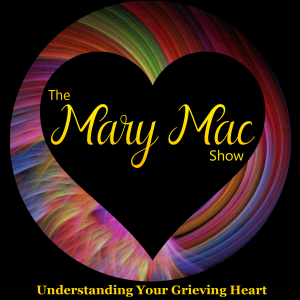 In Episode 84, we take a serious look at the stages of grief and how we often do not follow any certain path. We may also encounter various stages in different orders and revisit some along our journey.
Many people believe the stages of grief were developed for the bereaved, but the truth is they were originally for those who were going to die.
And the way we grieve if we are dying vs. if we are surviving someone who has died, is completely different.
We don't go through all the stages of grief in a straight line; we never did.
That's why you more than likely are in shock at the beginning of your grief, whether they were expected to die as in the case of illness, or died suddenly as in the case of a heart attack, stroke, car accident or violent death.
But as we endure the suffering of grief, we will see that we move back and forth in the stages of grief.
It might be many years later and you find yourself crying when a movie comes on that you and your beloved used to watch together. And this is perfectly fine. It happens to all of us.
Whether it's a movie or a song on the radio, or something else you shared.
So don't expect yourself to go through the stages of grief in a particular line. It won't happen for you.
Take your grieving process as it comes.
Everyone grieves in a particular way and you shouldn't beat yourself up by thinking you're not doing it well.
There is no special way.
It is your journey and whatever comes up for you along the way will be much different than another person you know.
Take your time and be kind to yourself.
Sending you my love. xoxo
Additional Notes:
My book Understanding Your Grieving Heart After a Loved One's Death is perfect for those beginning their journey. Click here to get yours by downloading it immediately.
Visit Crisis Connections at my website to telephone a trained counselor to speak with whenever you are feeling overwhelmed, confused, frightened, fearful or any host of emotions. Even if it is a suicide hotline, do not think they cannot help you. You do not need to feel suicidal to speak with these wonderful counselors. They are there to listen to you.
Use the Emotional Freedom Technique for Healing.
You can watch Marissa Peer's "I Am Enough" meditation.
Treat yourself to a lovely gift from our Heart of Gold "I Remember" Products from The Mary Mac Store.
Remember, a portion of all proceeds help fund The Foundation for Grieving Children, Inc., the first national non-profit public charity which benefits children, teens, young adults after a loved one's death which I established many years ago.
And remember to sign up for my private email list so we can always stay in touch, since social media is no longer reliable. Receive my ebook 21 Things You Must Know About The Grieving Process for immediate download.