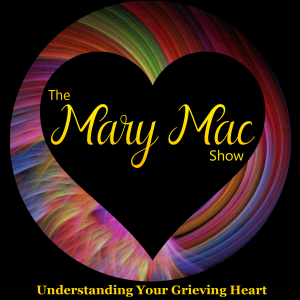 Exactly what do you say to a friend or relative who is grieving a loved one's death?
If you have never experienced this situation or if you have in the past and realized you really needed more knowledge on how to be more sensitive to the bereaved needs, this podcast is for you.
People who have experienced a loved one's death need our love and compassion, our tenderness, sensitivity and, above all, to not make the pain worse.
If this is their first loss, they may not know what they need from you.
They may not know what the right words are that will comfort them.
But we do. We've been down this road way too many times.
Learn from us!
So listen in to Episode 124 where we give you specific language to help you support that special friend or relative who is grieving a loved one's death.
Much Love,
Mary Mac
xoxo
Additional Notes:
You can obtain my free ebook entitled 21 Things You Must Know About The Grieving Process, available for immediate download right here on this site.
If you need knowledge as to what to expect when you're grieving, visit www.GriefAuthority.com and pick up my 3 Book Bundle of Hope which you can immediately download 24/7 anywhere in the world. It is important to not guess if what you're feeling is part of this process. With my books, you will know what happens during this time so you'll have your mind at ease. Go get them now.
If you are grieving a loved one's death, take the time to research a hotline with trained counselors to speak with.