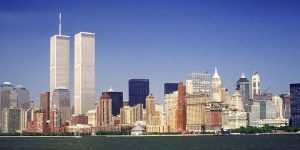 In Episode 92, we remember the morning of September 11, 2001, the deadliest terrorist attack in world history and the first on American soil.
For those of us old enough to remember, this was the darkest day in American history as we watched in utter horror as four planes were used as missiles to wreak terror on our nation.
People watched in lower Manhattan as both buildings of the World Trade Center were attacked and within hours imploded killing thousands.
Many jumped to their deaths from 100 stories or more because they couldn't breathe from the smoke and flames.
Nearly three-thousand people died that day from 90 countries. And many more over the years from those like the Fire Department of New York and the New York Police Department who succumbed to cancers breathing in the toxic fumes from the 'pile' they worked on to rescue and recover victims.
The FDNY, the Fire Department of New York, lost 343 trying to save others.
That day is marked in all our minds by most of us alive on September 11, 2001. It is a day where we all knew exactly where we were. And most of us were glued to our television sets.
We will carry those memories forever.
Those who were in the buildings and made it out, lost many friends and grieve for their losses along with the victims' families.
Those who were too young to even know what this was like, below you will see video footage compiled so we never forget.
And yes it's graphic…that's life. This is real life. It happened. People lived through this.
And for those who have claimed a single photo 'triggered' them, well it's time to get a backbone because what's ahead for our country is not good.
We have welcomed thousands of Afghan refugees and have no idea if they are terrorists. The chances of this happening again are high.
Here are the scenes of what happened that day:
Here is the memorial today where the towers once stood:
Bless everyone who died that day and the families and friends of those victims.
Take the time to listen to the names being read each year on 9/11 to honor them.
We must never forget!