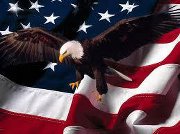 Each year when this day rolls around, I am reminded of all the sacrifice a family makes when their loved one goes away to protect the freedoms we Americans enjoy each day.
And while I'm so amazed at what it takes to be in the military and fight overseas with the constant threat of being killed, if they're in a combat situation, I feel it's also important to recognize the sacrifices a family makes throughout the entire tour.
A spouse who is left to raise a young family by themselves perhaps on a military base. The inadequate stipend they are given to raise that family. The increased level of responsibility they must endure.
And if their beloved is killed, they are left to raise that family alone.
Today I salute not only the veterans and remember all those who were killed to secure our freedoms, but for all the family members who are or have grieved a military family member's death and the difficult road to recovery on an emotional as well as financial level.
I salute you!