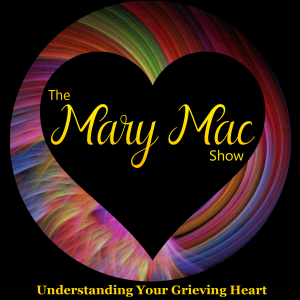 In Episode 127, we look at all the mothers and mother figures in our life and how their deaths have affected us as well as the grief felt by those who lost children and those waiting to be called "Mom".
The pain we feel when our mothers die is severe especially if we had a wonderful relationship with them.
But, sometimes, our relationship wasn't as we would expect and we struggle with the 'what if's' and perhaps guilt that may bring.
Yet whatever the relationship, good or bad, that we had with her, we must forgive ourselves and even her for what you needed that she didn't or couldn't give you, for what you and she said to each other that stung, and all the unfinished business that might still linger that neither of you can do anything about anymore.
We also recognize all the mother figures – grandmothers, aunts, stepmothers, foster mothers, older female siblings and others – who raised you and cared for you if your Mom died younger than expected.
We also talk about bereaved mothers who have buried their child, children or even all their children.
Let us not forget all the fathers who raised children and became their mothers as a result of their wives' deaths, incapacity or abandonment.
Lastly, we look at women who struggle to have children, those who miscarried or had a stillborn child, as well as those who deal with infertility and/or the knowledge that they may never have children of their own. We also remember women who are older now and wished they had children years ago when it was still possible, or those who never found the right husband to raise a family.
This can be a very melancholy day for some. Let us acknowledge them all.
xoxo
Additional Notes:
To help bring you to emotional stability, visit Julie Schiffman's youtube channel will teach you the Emotional Freedom Technique. Her videos calm your spirit and help you release emotional and physical pain as you move forward. She has many videos to chose from.
If you need to speak with someone who will understand your pain, visit my Crisis Connection page and find a Crisis Hotline near you. These amazing individuals are trained to help, so do take advantage of their knowledge and help.
Here are some meditation music to help you rest.
*To find a homeopathic doctor, visit here or here. Many offer phone consultations if you cannot find one in your area. They work with patients around the globe. You can also research in your area of the world.
Please share with anyone who may need to know this. Also subscribe, rate and review this podcast on whichever podcast platform you listened in.